Dreier, Katherine S. (Katherine Sophie), 1877-1952
Dates
Katherine S. Dreier (1877-1952), American artist, promoter of modern art, and co-founder of the Société Anonyme
Found in 8 Collections and/or Records:
Overview:
The papers consist of correspondence, subject files, printed material, and family memorabilia, which document the personal life and professional career of Josef Albers. The papers contain some material relating to the Bauhaus school but the bulk of the material dates from Albers's arrival in the United States. The largest part of the papers is composed of published material by or about Albers or which contain reproductions of his work.
Dates: 1899-1973
 Collection
Call Number:
YCAL MSS 101
Overview:
The Katherine S. Dreier portion of the collection contains correspondence between Dreier and artists and friends (including Constantin Alajalov, David Burli︠u︡k, Marcel Duchamp, Wassily Kandinsky, Man Ray, and Ted Shawn); and art-related organizations (including the Arts Club of Chicago, the Brooklyn Museum, the George Walter Vincent Smith Art Museum, and the Museum of Modern Art).There is some correspondence regarding art purchases and the packaging and shipping of art, such as that with...
Dates: 1818-1952, bulk 1920-1951
Overview:
The papers consist of correspondence, course materials, writings, and newspaper clippings relating to George Heard Hamilton's career as a professor of art history, art gallery curator and administrator, and author. Correspondents include curators of U.S. and European art museums and galleries, colleagues at Yale and at other universities, and members of the international art community.
Dates: 1937-1966
Overview:
The papers contain correspondence and art on greeting cards by artists whose works she exhibited.
Dates: 1937-1964 (inclusive)
Click here to access online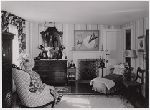 Part of Collection — Box: 1, Folder: GROUP 4, F-1
Call Number:
YCAL MSS MISC
Scope and Contents:
Twelve TLS (one incomplete), one ALS, and one card, regarding photographs taken by Schiff of Dreier's houses, of her artwork, and of herself.Accompanied by six photographs: view of Long Ridge Methodist Episcopal Church from porch of the Haven (West Redding, Conn.); inside hall of the Haven, showing Brancusi's "Yellow Bird"; library at the Haven, showing Marcel Duchamp's "Tu m'" and "Bride stripped bare by her bachelors, even"; Dreier sitting in hand elevator in Laurel Manor...
Dates: 1946-50
 Part of Collection — Box: 1, Folder: GROUP 4, F-2
Call Number:
YCAL MSS MISC
Scope and Contents:
2 TLS, dated 1950 May 5 and 1950 Jun 5.
Dates: 1950
Overview:
The papers consist of correspondence with Edward M. House (1920-1938), personal correspondence, manuscripts and correspondence preparatory to the publication of Seymour's
Intimate Papers of Colonel House
(1926-1928), newspaper clippings, articles, and memorabilia. Much of the material concerns Seymour's role as delegate to the Paris Peace Conference of 1919.
Dates: 1912-1963
Overview:
Letters by Oscar Wilde to various parties, including Leonard Smithers and Frank Harris; letters between persons acquainted with Wilde, several manuscripts of writings by Wilde, including a notebook on Roman history, notes on travels in France and Spain, and "Phrases and Philosophies for the use of the young"; and several ephemeral items relating to Wilde.
Dates: 1884-1915