Remington, Frederic, 1861-1909
Dates
American painter, illustrator, sculptor, and writer who specialized in depictions of the American Old West.
Found in 3 Collections and/or Records:
Click here to access online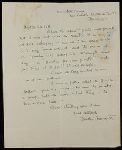 Part of Collection — Box: 43, Folder: GROUP 732, F-1
Call Number:
YCAL MSS MISC
Scope and Contents:
ALS thanking Pyle for artwork received.
Dates: [1895] Feb 22
 Collection
Call Number:
WA MSS S-2601
Overview:
The Franz R. and Kathryn M. Stenzel Collection of Western American Art Addition consists of thirty-two works of art, twenty Native American artifacts, and various prints and manuscript items, which decorated the home of Kathryn M. Stenzel until her death in 2006 and which comprise the remainder of the art collection that was donated in 1997.
Dates: 1853-1962
Overview:
Correspondence, addresses and writings, papers relating to the Yale School of the Fine Arts, and other papers of John F. Weir, artist, painter and first director of the Yale School of the Fine Arts, serving from 1869-1913. Correspondents include many persons prominent in the art world between 1870 and 1920. There is also much material on the origins and development of art education in this country and at Yale.
Dates: 1838-1957, bulk 1861-1928