Dates
Existence: 1899-07-21 - 1932-04-27
Biography
American poet
Found in 9 Collections and/or Records:
 Sub-Series
Call Number:
YCAL MSS MISC
Dates: [ca. 1800-ongoing]
Abstract:
Hart Crane Collection consists of correspondence to, from, and about Crane, copies of Crane's poetry and prose, articles about Crane, and material on Crane's work in art and advertising.
Dates: 1910-1972
Abstract:
The papers document the life and activities of Scofield Thayer and the history of Dial Magazine under his ownership. They include the surviving Dial office files, with correspondence by Alyse Gregory, Marianne Moore, Gilbert Seldes, Kenneth Burke, and J. Sibley Watson; manuscripts, typescripts and corrected galleys of submissions to the magazine by authors including Ezra Pound, T. S. Eliot, D. H. Lawrence, George Santayana, William Butler Yeats, and Glenway Wescott; and advertising material....
Dates: 1879-1982, bulk 1920-1925
 Collection
Call Number:
YCAL MSS 578
Abstract:
The collection consists of writings, correspondence, photographs, and other materials documenting the personal and professional affairs of Modernist-era painter Marsden Hartley. Writings contain notes and drafts, autograph and typescript, for numerous writings, chiefly essays. Correspondence is spread out over the many groupings in the collection and features large files of outgoing letters to Norma Berger, Hartley's niece, Carl Sprinchorn, and Adelaide S. Kuntz, as well as incoming letters...
Dates: 1885-1978
 Part of Collection — Box 99: [Barcode: 39002140920084], Folder: 28
Call Number:
YCAL MSS MISC
Scope and Contents:
Typescript play titled If I Were King, possibly written by Hart Crane.
Dates: undated
Click here to access online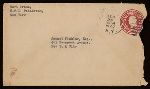 Part of Collection — Box 24: [Barcode: 39002137170339], Folder: GROUP 448, F-1
Call Number:
YCAL MSS MISC
Scope and Contents:
Two TLS and five ALS written by Crane while living in Patterson, N.Y., to Finkler; postcard photograph of Opffer, Olga Eggers, and an unidentified man, with an ANS from Opffer to Crane; an ANS from Opffer, editor of Nordlyset, to an unidentified recipient, on verso of his business card; photograph of Crane; four photographs of Finkler, Opffer, and two unidentified men; printed card issued by Harper & Brothers, publishers; and three clippings concerning the deaths of Crane and Finkler....
Dates: 1925-49, n.d.
Abstract:
The Alfred Stieglitz/Georgia O'Keeffe Archive contains correspondence files, manuscripts, documentary ephemera, photographs, art and realia related to the lives and careers of Alfred Stieglitz and Georgia O'Keeffe, his second wife, and to other members of Stieglitz's family.The first subgroup, Alfred Stieglitz Papers, consists of material documenting Stieglitz's life's work: correspondence with artists, photographers, and writers; manuscripts by Stieglitz and others describing the art...
Dates: 1728-1986, bulk 1880-1986
Abstract:
The papers contain correspondence, drafts of unpublished books, essays, and other writings, together with personal papers documenting Toomer's life, primarily after his Harlem Renaissance period, and papers on Marjory Latimer Toomer. Correspondents include Charles Dupee, Waldo Front, Mabel Dodge Luhan, Margaret Naumberg, and Russell S. Walcott.
Dates: 1898-1963 (inclusive), bulk 1920-1956
 Collection
Call Number:
YCAL MSS 1345
Abstract:
Portraits primarily depicting prominent nineteenth and twentieth century American writers, artists, and photographers, as well as scientists, educators, social reformers, and statesmen. Included are images of Joel Barlow, William Cullen Bryant, Hart Crane, James Dwight Dana, T. S. Eliot, Max Ewing, Robert Frost, H. D., Oliver Wendell Holmes, Sinclair Lewis, Dorothy Parker, Wendell Phillips, Frank Stockton, Harriet Beecher Stowe, Robert Penn Warren, Noah Webster, and John Greenleaf Whittier....
Dates: 1842-1980