Dates
Existence: 1819-05-31 - 1892-03-26
Walt Whitman (1819-1892), American poet, essayist, and journalist.
Found in 8 Collections and/or Records:
 Part of Collection — Box: 1, Folder: GROUP 17, F-2
Call Number:
YCAL MSS MISC
Scope and Contents:
Address leaf, addressed to John Addington Symonds, Am Hof, Davos Platz, Graubünden, Switzerland. Inscribed: "Walt Whitman's handwriting on a newspaper. Guaranteed John Addington Symonds."
Dates: n.d.
Overview:
Scripts, correspondence and photographs documenting the film productions of Mary Ellen Bute and Ted Nemeth. The films represented in this collection include "Passages from James Joyce's Finnegan's Wake," "Skin of Our Teeth," and "Out of the Cradle Endlessly Rocking."
Dates: 1907-1985
 Collection
Call Number:
GEN MSS 1387
Overview:
The collection consists of the papers of author and wood engraver W. J. Linton, including personal and professional correspondence, writings by and about Linton, drawings and prints, personal papers, and other papers covering Linton's life and work in England and the United States. The papers are primarily those inherited by his daughters Ellen Wade Linton and Margaret Linton Mather, with additions from family friends.
Dates: 1797-1937, bulk 1838-1897
Overview:
Correspondence, diaries, notebooks, drawings, legal and financial papers, published writings, unpublished manuscripts, and memorabilia of the Loomis and Wilder families of Massachusetts, New York, and Virginia. The papers relate principally to Eben Jenks Loomis, astronomer, poet, and nature writer, and to his immediate family, and to his wife, Mary Alden Wilder Loomis and her immediate family, including papers of John Augustus Wilder, Civil War officer and lawyer for the U.S. Army. The Eben...
Dates: 1790-1912
Click here to access online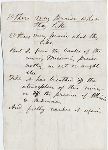 Part of Collection — Box: 1, Folder: GROUP 17, F-1
Call Number:
YCAL MSS MISC
Scope and Contents:
Poem, holograph.
On verso of fragment of ALS with postscript regarding Leaves of Grass.
Dates: n.d.
 Part of Collection — Box: 1, Folder: GROUP 17, F-3
Call Number:
YCAL MSS MISC
Scope and Contents:
Draft of preface to
Giordano Bruno: Philosopher and Martyr
by Daniel G. Brinton and Thomas Davidson (Philadelphia: David McKay, Publisher, 1980). Draft, autograph manuscript, heavily corrected, on verso of autograph manuscript letter to Whitman from Katherine J. Dowling, also dated February 20, 1890.
Dates: 1890-02-24
 Collection
Call Number:
YCAL MSS 141
Overview:
Consists of an extra-illustrated copy that includes letters and signatures.
Dates: ca. 1884-1886
 Collection
Call Number:
YCAL MSS 202
Overview:
The Whitman collection consists of letters, manuscripts, photographs, artwork, and personal papers documenting the life and work of Walt Whitman. There is personal and business correspondence from Whitman to family, friends, editors, and publishers, including Richard Maurice Bucke, John Burroughs, Julius Chambers, Moncure Conway, Nathan Hale, James R. Osgood and Company, George Routledge & Sons, William Sloane Kennedy, William Michael Rossetti, John Swinton, and Louisa Whitman. There are...
Dates: 1842-1949