"The Newest Cure.", 1909 October 20
 Item — Box: 11, Folder: 29
Call Number:
Ms Coll 67, Series I
Click here to access online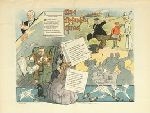 Scope and Contents
Puck (66:1703), page 16, back cover of complete issue. Cartoon making fun of a doctor saying swearing is good for your health, and people taking advantage of this. Hansen database #834.
Dates
Creator
Language of Materials
From the Collection:
Materials in the collection are in English, German, and French.
Conditions Governing Access
From the Collection:
The materials are open for research.
Part of the Medical Historical Library, Cushing/Whitney Medical Library Repository