"Für die ehrenwerthen Schulräthe.", 1879 January 8
 Item — Box: 1, Folder: 11
Call Number:
Ms Coll 67, Series I
Click here to access online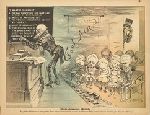 Scope and Contents
Puck (German

), page 256, back cover. Translation is "For the honorable school councilors/supervisors." Three-color lithograph by Joseph Keppler. Subject is the foul air in schools, causing illness among children. The English and German editions were generally published at the same time with the same cartoons. Note that all the words inside the image are in English, while the caption below the border is in German. Main words in the image are "Foul Air" and "Bad Sewage." The teacher is a figure of Death, and a member of the Board of Education at the doorway is holding his nose. Hansen database #3811
Dates
Language of Materials
From the Collection:
Materials in the collection are in English, German, and French.
Conditions Governing Access
From the Collection:

The materials are open for research.