"Zwei Jünger Aesculap's, oder: Die Wichtigkeit des Bartes.", 1889 April 17
 Item — Box: 1, Folder: 19
Call Number:
Ms Coll 67, Series I
Click here to access online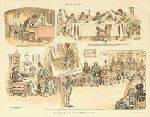 Scope and Contents
Puck (German), back cover. By F. Opper, translation "Two Young Aesculaps, or the importance of the Beard." Hardworking student who becomes a Dr. has no patients, while carousing fellow who grows a beard has a full waiting room. He's seen taking a lady's pulse with pocket watch. A young black boy acts as door-keeper of the doctor's study. No medical accoutrements in the successful doctor's rooms; industrious student had skull, anatomical drawings, and piles of books in his room. Hansen database #358.
Dates
Creator
Language of Materials
From the Collection:
Materials in the collection are in English, German, and French.
Conditions Governing Access
From the Collection:
The materials are open for research.
Part of the Medical Historical Library, Cushing/Whitney Medical Library Repository