"Laboratory at Saranac Lake, N. Y., for the Study of Tuberculosis--Interior of Main Room.", 1897 March 6
 Item — Box: 12, Folder: 23
Call Number:
Ms Coll 67, Series I
Click here to access online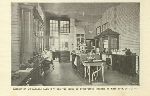 Scope and Contents
Scientific American (76:10), front cover of complete isue. Lower photograph showing interior with two men, one seated. Hansen database #428.
Dates
Creator
Language of Materials
From the Collection:
Materials in the collection are in English, German, and French.
Conditions Governing Access
From the Collection:
The materials are open for research.
Part of the Medical Historical Library, Cushing/Whitney Medical Library Repository