"Hérodiade", c1911
 Part of Collection — Box: 19
Call Number:
GEN MSS MUSIC MISC
Click here to access online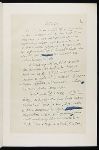 Scope and Contents
Draft of an essay by Massenet, revised, signed, describing creation of the opera, published in L'écho de Paris, 1912. A revised version of the essay was published in Massenet's Mes souvenirs (Paris: P. Lafitte, c1912).

Date from copyright annotation.

Bound by a former owner.
Dates
Creator
Language of Materials
From the Collection:
In English.
Physical Description
1 item (11 leaves) ; 32 cm., bound in volume, 38 cm.
Conditions Governing Access
From the Collection:
The materials are open for research.

Folders 1-12: Restricted fragile material. Reference surrogates have been substituted in the main files. For further information consult the appropriate curator.

Oversize Folder 90 (Record album storage): Reference copies may be requested. Consult Access Services for further information.
Immediate Source of Acquisition
Purchased from Autographes on the Edwin J. Beinecke Book Fund.