Bookcase Study for Installation at Franklin Furnace

, 1985

 Part of Collection — Box: 1, Folder: 16

Call Number:

 

YCAL MSS 340, Series I
Click here to access online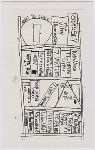 Scope and Contents
According to Van Horn: "This study was later translated into paint directly on a sliding door at Franklin Furnace in New York City. It was a partial list of one of a kind books to include in the show, or if they were not available to be included, they would at least be there by their title."
Dates
Physical Description
1 print: monoprint, black and white; typewriter paper sheet 15.3 x 26.5 cm. affixed on sheet 30.0 x 28.5 cm.
Information about Access
From the Collection:

This collection is open for research.
Language of Materials
From the Collection: No linguistic content; Not applicable