Scrapbook, circa 1871-1891, undated
 Item — Box: 14
Call Number:
JWJ MSS 240, Series III
Click here to access online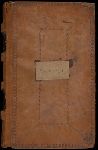 Scope and Contents
Frederick Douglass, Jr., son of Frederick Douglass, compiled this scrapbook, which contains numerious newspaper and magazine clippings, along with correspondence and geneological notes. This scrapbook also contains a brief autobiographical sketch, handwritten by his son Frederick Douglass, Jr., detailing Frederick Douglass's life from 1842 to 1890.
Dates
Conditions Governing Access
From the Collection:

This collection is open for research.
Language of Materials
From the Collection: English