Boardman, Helen, n.d.
 Part of Collection — Box: 1, Folder: 5
Call Number:
JWJ MSS 10, Series I
Click here to access online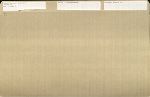 Scope and Contents
Biographical eulogy "Jerome B. Peterson: A Negro Friend"
Dates
Conditions Governing Access
From the Collection:

The materials are open for research.

Correspondence with Rudolph Fisher and Jean Toomer is restricted. Please consult the appropriate curator for further information.
Language of Materials
From the Collection: English