Drafts, holograph, typescript and carbon, corrected, 1931
 Part of Collection — Box: 373, Folder: 6087
Call Number:
JWJ MSS 26, Series VI
Click here to access online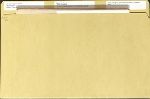 Dates
Conditions Governing Access
From the Collection:

The materials are open for research.

Boxes 639-667 and items in cold storage (including box 669): Restricted fragile material. Reference surrogates have been substituted in the main files. For further information consult the appropriate curator.
Language of Materials
From the Collection: English