Letters
 Part of Collection — Box: 1, Folder: 1-38
Call Number:
GEN MSS 1959
Click here to access online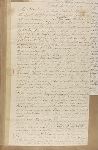 Scope and Contents
Includes letters from:

Benjamin Abbott, John S. C. Abbott, Ebenezer Adams, John Adams, John Quincy Adams, William Adams, Timothy Alden, William Allen, Benjamin Alvord, Rufus Anderson, Samuel J. Andrews, Jeremiah Atwater, Lyman H. Atwater, Moses Atwater, Samuel Austin, Azel Backus, Asa Bacon, Leonard Bacon, Joseph Badger, Robert Baird, Ebenezer Baldwin, Henry Baldwin, George Bancroft, Elijah Barrows, Zedekiah S. Barstow, William Bartlet, John R. Bartlett, Shubael Bartlett, Frederick Barnard, Henry Barnard, Albert Barnes, Jonathan Barnes, Jr., Amos Bassett, Isaac C. Bates, Joshua Bates, Samuel Bayard, Frederick Beasley, Lyman Beecher, Nathan Beers, Charles T. Beke, Judah P. Benjamin, George W. Bethune, Horace Binney, and Robert H. Bishop.
Dates
Language of Materials
From the Collection:
In English.
Conditions Governing Access
From the Collection:

This collection is open for research.