Letters
 Part of Collection — Box: 3, Folder: 89-133
Call Number:
GEN MSS 1959
Click here to access online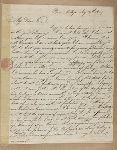 Scope and Contents
Includes letters from:

David Daggett, Samuel W. Dana, Noyes Darling, Charles Davies, Henry Davis, John H. DeForest, William H. DeLancey, Joseph Delaplaine, Edward C. Delavan, Charles Denison, Henry W. De Saussure, Chester Dewey, Thomas DeWitt, James T. Dickinson, Ezra Doolittle, Mark Doolittle, Levi Doolittle, David B. Douglass, Daniel Drake, William A. Duer, George Duffield, William M. Dunn, John P. Durbin, Aaron Dutton, Matthew R. Dutton, Sereno E. Dwight, Theodore Dwight, Amos Eaton, Bela B. Edwards, Justin Edwards, Ninian W. Edwards, Samuel A. Eliot, Andrew Ellicott, John Elliott, Henry Ellsworth, William Ellsworth, David Ely, Joseph Emerson, Nathanael Emmons, and Jeremiah Evarts.
Dates
Language of Materials
From the Collection:
In English.
Conditions Governing Access
From the Collection:

This collection is open for research.