Letters
 Part of Collection — Box: 8, Folder: 322-367
Call Number:
GEN MSS 1959
Click here to access online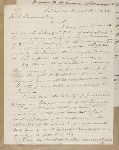 Scope and Contents
Includes letters from:

Henry W. Tabb, Alphonson Taft, Alvan Talcott, John S. Tallmadge, Matthias B. Tallmadge, Arthur Tappan, Henry P. Tappan, John Tappan, Increase N. Tarbox, A. Taylor, Nath'l W. Taylor, Wm. W. Taylor, Israel K. Tefft, Caleb J. Tenney, Geo. C. Tenney, Shadrach Terry, Peter D. Thacher, David Thom, C. P. Thompson, Chas. M. Thruston, Wm. Thurston, Geo. J. Tillotson, David Tailton, Capt. Eli Todd, John Todd, Robert Tolefree, Gideon Tomlinson, Chas. T. Torrey, Isaac Toucey, Isaac H. Townsend, John Truair, David Trumbull, Col. John Trumbull, Henry St. G. Tucker, Mark Tucker, Wm. Tucket, Wm. Tudor, Jr., W. Tully, Chas. Turner, Rev. Wm. W. Turner, Cornelius Tuthill, Mrs. Louisa Tuthill, Timothy Tuttle, Alex C. Twining, Stephen Twining, Bennet Tyler, Edward R. Tyler, Hezekiah G. Ufford, Daniel Ullmann, Daniel Van Matre, Cortlandt Van Rensselaer, J. Rutsen Van Rensselaer, Thos. E. Vermilye, Daniel C. ZVerplanck, Jonathan M. Wainwright, Henry M. Waite, Samuel H. Walley, Edward Waln, Reuben H. Walworth, Henry D. Ward, Henry Ware, Geo. W. Warner, Wyllys Warner, W. E. Warren, Washington College (Pa.), Jared B. Waterbury, Sylvester Waterhouse, Elijah Waterman, Thos. J. Waterman, Francis Wayland, Isaac Webb, Thos. H. Webb, Wm. B. Weed, I. M. Weissinger, Archibald Welch, John Welch, Jonathan A. Welch, Chas. H. Weld, Lewis Weld, Ludovicus Weld, Thos. N. Welles, Wm. H. Welles, Wesleyan University, Chas. E. West, Abijah Weston, Hiram Wheeler, John Wheeler, Newton Wheeler, Wm. A. Whelpley, Ebenezer R. White, Joseph Whiting, Eli Whitney, Samuel Whitney, David Whittlesey, Elisha Whittlesey, Joseph Whittlesey, Luman Whittlesey, Hannah Whittlesey, Samuel Whittlesey, Samuel G. Whittlesey, Thos. T. Whittlesey, Williams H. Whittemore, Thos. S. Wickes, Joseph D. Wickham, CHauncey Wilcox, Phinehas B. Wilcox, Sidney B. Willey, Richard S. Williams, Thos. S. Williams, Williams College, Samuel M. Williamson, Nath'l P. Willis, David H. Williston, John P. Williston, Payson Williston, Lemuel Wilmer, J. P. Wilson, Hubbard Winslow, Benj. B. Wisner, John Witter, Fred'k Wolcott, Oliver Wolcott, Jr., Samuel Wolcott, Geo. I. Wood, Joseph Wood, Wm. C. Woodbirdge, Selah S. Woodhull, Simeon Woodruff, Alva Woods, Leonard Woods, Sr., Leonard Woords, Jr., Rufus Woodward, Samuel B. Woodward, John M. Woolsey, Theodore D. Woolsey, Wm. M. Woolsey, Aaron Woolworth, Joseph E. Worcester, Noah Worcester, Samuel Worcester, Samuel A. Worcester, Edwing Wright, Elizur Wright, Elizur Wright, Jr., Joseph Wright, Luther Wright, Rober W. Wright, John Wurts, Andrew Wylie, Yale College - Class of 1802, Yale College - Editor, Students' Companion, Yale College - Class of 1842, Yale College - Boston Alumni Association, Andrew Yates, Stephen Yerkes, Ebenezer Young, Guilford Young, Mrs. Prudence [Averill] Young, and Wm. Young.
Dates
Language of Materials
From the Collection:
In English.
Conditions Governing Access
From the Collection:

This collection is open for research.