Curtiss, Mina, 1941-77, n.d.
 Part of Collection — Box: 47, Folder: 655
Call Number:
YCAL MSS 134, Series I
Click here to access online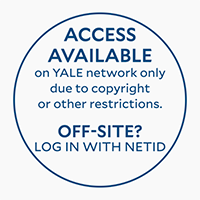 Scope and Contents
to MW & GW ; includes letters from
GW, Edward James, and The Viking
Press to MC
Dates
Conditions Governing Access
From the Collection:

The materials are open for research.



Restricted Fragile

material in box 485 may only be consulted with permission of the appropriate curator. Preservation photocopies, photographic prints, or digital surrogates for reference use have been substituted in the main files.

Boxes 460-466 (audiovisual material): Restricted fragile. Reference copies may be requested. Consult Access Services for further informatiion.
Language of Materials
From the Collection: English