"S" general, 1896-1951, n.d.
 Part of Collection — Box: 10, Folder: 377-382
Call Number:
YCAL MSS 146, Series I
Click here to access online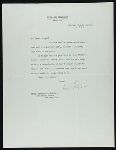 Scope and Contents
Sachs, Paul
Sackett, Henry W.
Sartan, William
Satterlee, Herbert L.
Satties, Rollin
Savage, Eugene
Sawyer, Philip
Schnakenberg, Henry
Schock, Hiram
Scudder, Janet
Seaman, Owen
Scope and Contents
Sears, C.
Sears, Sarah
Secker, C.
Seeley, R.
Seibert
Seitz, Don C.
Seward, F.
Seymour, George D.
Shaw, Lois
Sheldon, Edward
Shepard, Frederick J.
Scope and Contents
Sherman, Frederic Fairchild
Sherwood, H.F.
Shifman, Ellen
Shinn, Everett
Shore, Henrietta M.
Shreve, R.H.
Shurtleff, Mrs. R.M.
Shurtleff, Stella H.
Silbert, Ben
Simmons, Edward
Simmons, Will
Scope and Contents
Sizer, Theodore
Smalley, George
Smedley, Will Larymore
Smith, Albert E., Mrs.
Smith, Avery
Smith, George
Smith, Goldwin
Smith, Joseph
Smith, Marie
Smith, Theodore Clarke
Scope and Contents
Smith, William J.
Sorine, S.
Spalding, Mary Pyle
Spencer, Herbert
Spencer, Margaret F.
Sperling, Harry G.
Speyer, James
"The Sphere"
Squine, E.
Starr, Sydney
Scope and Contents
Starrett, Vincent
Steele, Fletcher
Steese, Edward
Sterner, Albert
Stetson, Francis L.
Stewart, Mrs.
Straight, Willard
Strang, William
Street, Julian
Strong, Austen
Scope and Contents
Stutfield, Hugh
St. Ward, John
Sullivan, Alice
Sullivan, Mark
Sulzberger, Arthur Hays
Symonds, Margaret
Symons, Arthur
Dates
Conditions Governing Access
From the Collection:

The materials are open for research.



Restricted Fragile

in boxes 15-16 may only be consulted with permission of the appropriate curator. Preservation photocopies or photographic prints for reference use have been substituted in the main files.
Language of Materials
From the Collection: English