Canto II, n.d.
 Part of Collection — Box: 2, Folder: 67
Call Number:
YCAL MSS 178, Series II
Click here to access online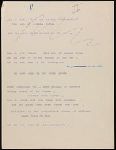 Scope and Contents
Typescript with holograph additions and corrections
Dates
Language of Materials
From the Collection:
Chiefly in English; some translations into French by Pound.
Conditions Governing Access
From the Collection:

The materials are open for research.

Box 5: Restricted fragile material. Reference surrogates have been substituted in the main files. For further information consult the appropriate curator.