Typed version, corrected in unidentified hand, n.d.
 Part of Collection — Box: 1, Folder: 12
Call Number:
YCAL MSS 203, Series III
Click here to access online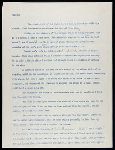 Dates
Conditions Governing Access
From the Collection:

The materials are open for research.

There are two cut film negatives corresponding to prints in the collection. The negatives are restricted and may only be seen with permission of the appropriate curator. Reference photographs have also been subsituted in the main files for material stored separately.
Language of Materials
From the Collection: English