Deaths among children, 1963, n.d.
 Part of Collection — Box: 32, Folder: 568
Call Number:
YCAL MSS 46, Series I
Click here to access online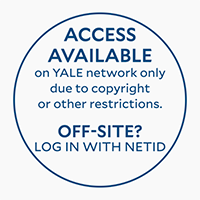 Dates
Conditions Governing Access
From the Collection:

The materials are open for research.

Box 119, Folders 2222-2223: Restricted fragile material. For further information consult the appropriate curator.
Language of Materials
From the Collection: English