Volume 11, ca. 1910-13
 Part of Collection — Box: 89, Folder: 1697
Call Number:
YCAL MSS 76, Series I
Click here to access online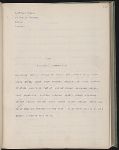 Scope and Contents
Includes: Tender Buttons. p. 1, consisting of: Rooms p. 1, corrected; Objects. p. 25, corrected; and Food p. 52, corrected
Scope and Contents
Portrait of Mabel Dodge at the Villa Curiona. p. 89 A Portrait of One. [Henry Phelan Gibb] p. 95 Portrait of Constance Fletcher. p. 97
Scope and Contents
Scenes. Actions and Dispositions of Relations and Positions. p. 109, corrected Publishers, the Portrait Gallery And the Manuscripts and the British Museum. p. 138, corrected
Scope and Contents
Portrait of F. B. p. 146, corrected Portrait of Prince B. D. p. 150, corrected England. p. 157, corrected What Happened. A Play in Five Acts. by Gertrude Stein. p. 174, corrected
Scope and Contents
One. (Van Vechten.) p. 182, Article. p. 185, corrected White Wines. Three Acts. I. Altogether 2. Witnesses. 3. House to House. (Five Women.) p. 188, corrected Braque. p. 195, corrected
Scope and Contents
IIIIIIIIII. p. 202 A Play. Old and Old., consisting of: 1. Conditions.; 2. Treatment; 3. Collecting Poles.; 4. Invite.; 5. A Told High Floors, Colossal, Swell, Red. 6. Wodos., 7. Grass Trees., and 8. Cut Indians. p. 212, corrected
Scope and Contents
Susie Asado. p. 227 Mrs. Thursbey. p. 229, A Curtain Raiser. p. 231 Miguel. (Collusion.) Guimpe. Candle. p. 233 Simons. A Bouquet. (necessary) p. 244
Scope and Contents
In General. p. 263 Thank You. p. 265 A Sweet Tail. p. 267, corrected Carnage. p. 273, corrected Yet Dish. p. 277, corrected Americans. p. 288, corrected In. p. 297, corrected
Dates
Creator
Conditions Governing Access
From the Collection:
The materials are open for research.

Restricted Fragile Papers in box 173 and cold storage may only be consulted with permission of the appropriate curator. Preservation photocopies for reference use have been substituted in the main files.

Painting in folder 4273: Restricted. On permanent loan to the Yale University Art Gallery. For more information please consult the appropriate curator.
Language of Materials
From the Collection: English
Part of the Beinecke Rare Book and Manuscript Library Repository
Location
121 Wall Street
New Haven, CT 06511

Opening Hours
Access Information
The Beinecke Library is open to all Yale University students and faculty, and visiting researchers whose work requires use of its special collections. You will need to bring appropriate photo ID the first time you register. Beinecke is a non-circulating, closed stack library. Paging is done by library staff during business hours. You can request collection material online at least two business days in advance of your visit, using the request links in Archives at Yale. For more information, please see Planning Your Research Visit and consult the Reading Room Policies prior to visiting the library.