Letter : 220 East 69 Street, New York City, to Mrs. Lyda Rochmis, Thomas Jefferson High School, Brooklyn, N.Y., 1936 Jan 13
 Part of Collection — Box: 34, Folder: GROUP 546, F-1, F-2
Call Number:
YCAL MSS MISC
Click here to access online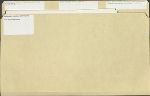 Scope and Contents
TLS expressing regret that he can not attend a performance of a dramatic adaptation of "John Brown's Body" that week at Thomas Jefferson High School. Accompanied by two typescript photocopies of the script as performed by students of Thomas Jefferson High School [Brooklyn, NY] in 1936, under the direction of Mrs. Lyda Rochmis. Also accompanied by a program for the "Third Annual Field Day" at Julia Richman High School [New York, NY], 1936 May 16, at which this production was also performed.
Dates
Creator
Conditions Governing Access
From the Collection:
The materials are open for research. Restricted Fragile Papers may only be consulted with permission of the appropriate curator. Preservation photocopies for reference use have been substituted in the main files.
Language of Materials
From the Collection: English