Letters and photographs relating to Samuel Finkler and Emil Opffer, 1925-49, n.d.
 Part of Collection — Box: 24, Folder: GROUP 448, F-1
Call Number:
YCAL MSS MISC
Click here to access online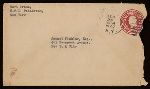 Scope and Contents
Two TLS and five ALS written by Crane while living in Patterson, N.Y., to Finkler; postcard photograph of Opffer, Olga Eggers, and an unidentified man, with an ANS from Opffer to Crane; an ANS from Opffer, editor of Nordlyset, to an unidentified recipient, on verso of his business card; photograph of Crane; four photographs of Finkler, Opffer, and two unidentified men; printed card issued by Harper & Brothers, publishers; and three clippings concerning the deaths of Crane and Finkler.

Crane's letters concern his friendship with Finkler and Opffer and briefly discuss his poem The Bridge.

Accompanied by an envelope annotated in an unidentified hand.
Dates
Creator
Conditions Governing Access
From the Collection:
The materials are open for research. Restricted Fragile Papers may only be consulted with permission of the appropriate curator. Preservation photocopies for reference use have been substituted in the main files.
Language of Materials
From the Collection: English