Letter : Philadelphia, to [John Denison Baldwin], 1847 May 4
 Part of Collection — Box: 34, Folder: GROUP 556, F-1
Call Number:
YCAL MSS MISC
Click here to access online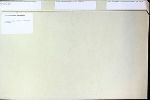 Scope and Contents
ALS praising his "The Story of Raymond Hill, and Other Poems," commenting in detail on the title poem and promising to review it favorably in Godey's Lady's Book. She mentions his "The Dark Room" and says she received a story by his protegée Martha Russel but cannot use it. She explains why his article "on the Northmen" was not published in Godey's, but suggests including it in "The Opal; a Pure Gift for the Holy Days", which she is to edit for 1848, and discusses the price she could offer him.
Dates
Creator
Physical Description
1 item (4 p.) ; 23 cm.
Conditions Governing Access
From the Collection:

The materials are open for research. Restricted Fragile Papers may only be consulted with permission of the appropriate curator. Preservation photocopies for reference use have been substituted in the main files.
Language of Materials
From the Collection: English