Adolescence and early manhood, 1901-10
 Part of Collection — Box: 69, Folder: 1728
Call Number:
YCGL MSS 1, Series V
Click here to access online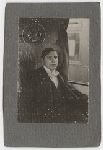 Dates
Conditions Governing Access
From the Collection:

The materials are open for research.

Boxes 61 and 75 (videocassettes): Use of originals is restricted. Reference copies may be requested. Consult Access Services for further information.

Box 80: Restricted during the life of Sachiko Yoshizawa Broch de Rothermann. For further information consult the appropriate curator.



The following formerly restricted papers were opened to researchers on January 1, 2000: letters to Paul Federn; letters to/from Jadwiga Judd; letter to Erich Kahler; letters to/from Jean Starr Untermeyer; "Psychische Selbstbiographie" and "Nachtrag zu meiner Psychischen Selbstbiographie"; and Suhrkamp Verlag correspondence (1980-1986) and royalty statements (1975-1987). Formerly housed in boxes 75 and 75a, folders 1807-1813, these materials were integrated into Series VI, Addition, in 2011.
Language of Materials
From the Collection: German