Willard Dryden Paddock photographs and papers
 Collection
Call Number:
YCAL MSS 848
Showing Digital Materials: 1–1 of 1
Click here to access online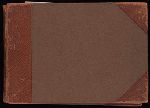 Sub-Series — Box: 1
Call Number:
YCAL MSS 848, Series I
Scope and Contents:
Photograph album with images related to a small farm owned by Willard Dryden Paddock and Charlotte Smith Paddock at 28 Spooner Hill Road, South Kent, Connecticut, 1912 to 1936, with the bulk from 1930 to 1936. Charlotte Smith Paddock compiled the first portion of the album, circa 1930-1936, and her niece, Charlotte "Kate" Rodina Steichen, compiled the second portion, circa 1966, using photographs from her aunt's collection. The second portion includes copious manuscript...
Dates: 1912-1966