Glass negatives and slides of the south
 Part of Collection — Box: 4
Call Number:
MS 397, Series Accession 2007-M-012
Click here to access online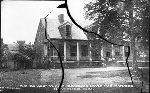 Scope and Contents
These negatives and slides represent twenty-eight different images (two are duplicates). Eleven of the glass slides in this box duplicate lantern slides in Series XVIII, box 45.
Dates
Conditions Governing Access
Access to the original glass negatives and slides is restricted. Researchers must use digital images in MADID.
Existence and Location of Copies
Alternate Format:

All of these images have been digitally reproduced in the Manuscripts and Archives Digital Image Database (MADID).
Extent
30 Items
Language of Materials
From the Collection: English