Letters of introduction, 1911
 Part of Collection — Box: 1, Folder: 21
Call Number:
MS 664, Series I
Click here to access online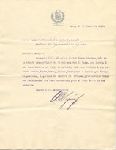 Dates
Conditions Governing Access
From the Collection:

While this collection as a whole is available for research, parts of it may be restricted due to law, university policy or fragility. Any restricted material will be noted as such.
Existence and Location of Copies
A copy of this material is available in digital form from Manuscripts and Archives. Contact Manuscripts and Archives at

mssa.assist@yale.edu

to request access to the digital copy.
Language of Materials
From the Collection: English