Mabel Wellington (White) Stimson, 1918-1934; undated
 Part of Collection — Box: 271, Folder: 9
Call Number:
MS 465, Series XIII
Click here to access online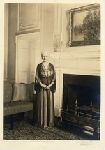 Dates
Creator
Conditions Governing Access
From the Collection:
The materials are open for research.

Series I-IX and Series XIV are available on microfilm. Patrons must use FILM HM 51 instead of Series XIV and FILM HM 52 instead of Series I-IX.
Language of Materials
From the Collection: English
Part of the Manuscripts and Archives Repository
Contact:
Yale University Library
P.O. Box 208240

New Haven
CT
06520-8240
US
(203) 432-1735
(203) 432-7441 (Fax)
beinecke.library@yale.edu
Location
Sterling Memorial Library
Room 147
120 High Street
New Haven, CT 06511

Opening Hours