Miscellaneous, 1965
 Part of Collection — Box: 143, Folder: 2454
Call Number:
MS 318, Series V
Click here to access online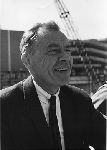 Dates
Creator
Conditions Governing Access
From the Collection:
Series V. Photographs, 1947-1969, Series VII. Scrapbooks, Accession 1984-M-003, and Accession 1985-M-076 are open to research. To access all other material in the papers until January 1, 2070, researchers must sign the Access Agreement for the Richard C. Lee Papers, which states "I agree not to use the names or in any way reveal the identity of private citizens, who were neither affiliated with the Lee administration nor otherwise engaged in public business, who wrote as constituents to Mayor Lee for assistance and in which the disclosure of such names might constitute an unwarranted invasion of privacy. I understand that failure to comply with this agreement may result in legal proceedings being initiated against me. In such a case, I agree to hold harmless and to indemnify Yale University, its officers, agents, or employees, for any loss or damage to them, including any associated legal fees."

Box 151 is closed until 2045.

Accessions 2001-M-010 and 2001-M-017 are unprocessed and may contain sensitive information or be in a physical state that would prohibit use. Researchers wishing to request access should email beinecke.library@yale.edu requesting specific box numbers in order to initiate the review process, which may take several weeks.

Original audiovisual materials, as well as preservation and duplicating masters, may not be played. Researchers must consult use copies, or if none exist must pay for a use copy, which is retained by the repository. Researchers wishing to obtain an additional copy for their personal use should consult Copying Services information on the Manuscripts and Archives web site.
Language of Materials
From the Collection: English
Part of the Manuscripts and Archives Repository
Contact:
Yale University Library
P.O. Box 208240

New Haven
CT
06520-8240
US
(203) 432-1735
(203) 432-7441 (Fax)
beinecke.library@yale.edu
Location
Sterling Memorial Library
Room 147
120 High Street
New Haven, CT 06511

Opening Hours