In Tibetan language in large dbu-can script H-7
 Part of Collection — Box: 2, item: H-7
Call Number:
MS 1, Series XV
Click here to access online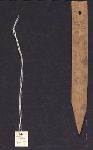 Dates
Conditions Governing Access
From the Series:

Access to artifacts is by appointment only. Contact the Head of Public Services or the Public Services Manager.
Existence and Location of Copies
A copy of this material is available in digital form from Manuscripts and Archives. Contact Manuscripts and Archives at

mssa.assist@yale.edu

to request access to the digital copy.
Language of Materials
From the Collection: English