Book II Print 12: Rebel radio activities and personnel, undated
 Part of Collection — Box: 1, Folder: 82
Call Number:
MS 650, Series I
Click here to access online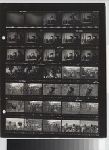 Scope and Contents
Top three rows of frames show monitoring set at RR12 identified on Print 4. Lower four rows of frames record the passing of the secret "defection team" of Cdte. Raul Chibas and Jose Quevedo noted on Print 7. On frame 31 Cdte. Chibas is shown in center (sombrero, eyeglasses); on next two frames photographer is shown with rebel radio operator Maria-Luisa Sabas. On frame 22 rebel radio personnel and the Chibas Team are shown in joint group. Standing in left rear is Cdte. Chibas (glasses); before him are rebel radio operator Maria-Luisa Sabas and one of the early Castro movements' key woman figures, Melba Hernandez (Mme. Jesus Montane) wearing scarf over head. Kneeling on extreme right is photographer's travel aide, Lt. Hanibal Hidalgo. This sheet adjoins Prints 3 and 7.
Dates
Creator
Language of Materials
From the Collection:
The materials are in Spanish and English.
Conditions Governing Access
From the Collection:
The materials are open for research.

Original audiovisual materials, as well as preservation and duplicating masters, may not be played. Researchers must consult use copies, or if none exist must pay for a use copy, which is retained by the repository. Researchers wishing to obtain an additional copy for their personal use should consult Copying Services information on the Manuscripts and Archives web site.
Part of the Manuscripts and Archives Repository
Contact:
Yale University Library
P.O. Box 208240

New Haven
CT
06520-8240
US
(203) 432-1735
(203) 432-7441 (Fax)
beinecke.library@yale.edu
Location
Sterling Memorial Library
Room 147
120 High Street
New Haven, CT 06511

Opening Hours