Book III Print 35: Crowd scenes after the fall of Batista, 1959 January
 Part of Collection — Box: 2, Folder: 160
Call Number:
MS 650, Series I
Click here to access online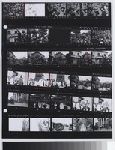 Scope and Contents
This print features various unusual scenes of jubilant townspeople as they greet Fidel Castro in the central streets of an unidentified provincial city during the first days of January 1959, right after the fall of Batista. Frames 3-14 appear to show an entirely different location than top rows of frames: these frames (3-14) in the bottom rows include images of the preparation of a speaker's dais before a municipal government building, as well as a rebel soldier examining a leaflet of pro-dictator propaganda (frame 5); the leaflet he is holding has a 26th of July guerrilla wearing blackface and squeezing the far-eastern end of the island with one hand while the red flag of Communism flies in the background. Frames 15-31 appear to show crowds of revelers on the outskirts of Havana proper as Fidel Castro arrives by tank and wades through the people.
Dates
Language of Materials
From the Collection:
The materials are in Spanish and English.
Conditions Governing Access
From the Collection:

The materials are open for research.

Original audiovisual materials, as well as preservation and duplicating masters, may not be played. Researchers must consult use copies, or if none exist must pay for a use copy, which is retained by the repository. Researchers wishing to obtain an additional copy for their personal use should consult Copying Services information on the Manuscripts and Archives web site.