Book III Prints 115-120: Fulgencio Batista's estate, 1959 January
 Part of Collection — Box: 3, Folder: 240-245
Call Number:
MS 650, Series I
Click here to access online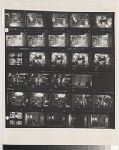 Scope and Contents
The former (now abandoned) estate of dictator Fulgencio Batista. In addition to the fabulous wealth and grandeur of the furnishings displayed in all the prints, Prints 115 and 116 are interesting for another reason: St. George visited the estate in the company of his wife (see Print 115) and his oldest son, who is seen laughing and standing in the niche created by the walls of a fireplace (see frames 20-24 of Print 116). St. George himself is visible in the great mirror hanging over the fireplace. Print 117 features exterior shots of the buildings and grounds (frames 2-16), as well as seating areas on the margins of a central table in frames 12, 29-31. Batista apparently lined a central patio of the house with marble busts of great historical liberators, seen in frame 8 of print 117 and frames 4-7 of Print 120. Print 118 shows the magnificence of Batista's wine cellar, as well as the magnitude of his wife's purse collection in frames 5-18. Frames 10-22 of Print 119 reveal the interior of Batista's personal office; on the wall behind the desk hangs a portrait of Batista himself as he appeared when he first ensured and then betrayed the 1933 Revolution against the first of Cuba's United States-supported dictators, Gerardo Machado. Print 120 also has a number of images of Batista's office (frames 23-25), as well as vistas of the marbled hallways and immaculate former bedchambers of the dictator. St. George provided the Cuban magazine Bohemia with many of these photographs for its early "Liberty Editions," published between mid-January and early February 1959.
Dates
Creator
Language of Materials
From the Collection:
The materials are in Spanish and English.
Conditions Governing Access
From the Collection:
The materials are open for research.

Original audiovisual materials, as well as preservation and duplicating masters, may not be played. Researchers must consult use copies, or if none exist must pay for a use copy, which is retained by the repository. Researchers wishing to obtain an additional copy for their personal use should consult Copying Services information on the Manuscripts and Archives web site.
Part of the Manuscripts and Archives Repository
Contact:
Yale University Library
P.O. Box 208240

New Haven
CT
06520-8240
US
(203) 432-1735
(203) 432-7441 (Fax)
beinecke.library@yale.edu
Location
Sterling Memorial Library
Room 147
120 High Street
New Haven, CT 06511

Opening Hours