Book IV Print 73: Fidel Castro with Vice President Richard Nixon, 1959 April
 Part of Collection — Box: 4, Folder: 319
Call Number:
MS 650, Series I
Click here to access online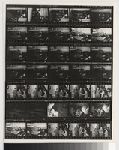 Scope and Contents
Fidel Castro and Vice President Richard Nixon as they emerge from a private meeting at the White House during the former's unofficial trip to Washington, D.C., in April of 1959 (see esp. 8-12). Frames 23-27 show the two shaking hands and remaining frames show them answering reporters' questions. Fidel Castro made the trip, together with a large entourage of well over a hundred people, on April 14, 1959, in response to the invitation of Jules Dubois, editor of the Chicago Tribune and then president of the American Society of Newspaper Editors. Fidel remained in the United States for more than two weeks, eventually touring cities on the eastern seaboard such as Boston, Princeton, New Jersey and New York City. For other images of Fidel Castro's trip to Washington and New York, see Prints 55-78 and Contact Book V; for other images of Fidel Castro after his meeting with Nixon, see Prints 59 and 69.
Dates
Language of Materials
From the Collection:
The materials are in Spanish and English.
Conditions Governing Access
From the Collection:

The materials are open for research.

Original audiovisual materials, as well as preservation and duplicating masters, may not be played. Researchers must consult use copies, or if none exist must pay for a use copy, which is retained by the repository. Researchers wishing to obtain an additional copy for their personal use should consult Copying Services information on the Manuscripts and Archives web site.