Book V Print 25: Crowds at Fidel Castro's return from trip to the United States and Castro addressing crowds, 1959 May
 Part of Collection — Box: 4, Folder: 349
Call Number:
MS 650, Series I
Click here to access online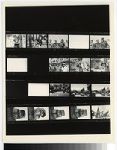 Scope and Contents
Frame 13 of the top row shows Andrew St. George sitting on the ground with a press band on his left forearm accompanied by an unidentified Cuban. They appear to be awaiting the arrival of Fidel at the airport following his highly successful, four-week visit to the United States and Argentina. Images in frames 9-12 show helmeted members of a national police force as they wait to receive Fidel Castro; frames 4-6 show Fidel Castro descending from the plane at a distance with men bearing the flag of the "Policía Nacional Revolucionaria" amidst the large crowd gathered on the tarmac. The bottom frames provide close-up shots of an unidentified light-eyed guerrilla sporting a particularly impressive beard as well as a close-up of Fidel Castro and other officials waving triumphantly from the podium in front of the monument to José Martí in what was then called the Plaza Cívica in Havana. This image documents Fidel's address to the nation given almost immediately upon his return to Cuba from the United States and Argentina. See also Prints 24, 26, 27, 28 and 29.
Dates
Language of Materials
From the Collection:
The materials are in Spanish and English.
Conditions Governing Access
From the Collection:

The materials are open for research.

Original audiovisual materials, as well as preservation and duplicating masters, may not be played. Researchers must consult use copies, or if none exist must pay for a use copy, which is retained by the repository. Researchers wishing to obtain an additional copy for their personal use should consult Copying Services information on the Manuscripts and Archives web site.