Book V Print 30: Fidel Castro traveling from Washington, D.C., to New York City, 1959 April
 Part of Collection — Box: 4, Folder: 354
Call Number:
MS 650, Series I
Click here to access online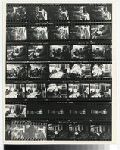 Scope and Contents
Contains two identical contact sheets. Fidel Castro and accompanying officials on the train north from Washington, D.C. to Princeton, New Jersey, where Fidel will give a number of public speeches to increasingly larger crowds of Americans. From New Jersey, Fidel continued to New York City where Columbia University's invitation that Fidel Castro speak drew such interest that the location had to be moved to Central Park and finally to Boston where Fidel visited and gave a speech at Harvard University. Here, in frames 25-33, Fidel Castro is seen eating in the dining car with Rufo López Fresquet, the first Minister of the Treasury under the revolutionary government, at his side. Frames 5-7 show Fidel's arrival at the station and remaining frames 6-8 appear to show seats in the salon where Fidel will deliver an address in New York City (for other images related to that address, see Print 39). See also Prints 31, 32, 33, 37, 38, 39, 41, 43 and 44.
Dates
Creator
Language of Materials
From the Collection:
The materials are in Spanish and English.
Conditions Governing Access
From the Collection:
The materials are open for research.

Original audiovisual materials, as well as preservation and duplicating masters, may not be played. Researchers must consult use copies, or if none exist must pay for a use copy, which is retained by the repository. Researchers wishing to obtain an additional copy for their personal use should consult Copying Services information on the Manuscripts and Archives web site.
Part of the Manuscripts and Archives Repository
Contact:
Yale University Library
P.O. Box 208240

New Haven
CT
06520-8240
US
(203) 432-1735
(203) 432-7441 (Fax)
beinecke.library@yale.edu
Location
Sterling Memorial Library
Room 147
120 High Street
New Haven, CT 06511

Opening Hours