Book IX Prints 11-16: Swimming pool at the Hotel Presidente; monument to Tomás Estrada Palma, 1960 June
 Part of Collection — Box: 7, Folder: 658-663
Call Number:
MS 650, Series I
Click here to access online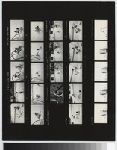 Scope and Contents
Photographs of tourists cavorting at the swimming pool of the Hotel Presidente, located on the Avenida de los Presidentes (also known as "G" Street) in el Vedado, Havana, across the street from what is today Cuba's Ministerio de Relaciones Exteriores (MINREX), a banker's former home. Prints 15 and 16 clearly show the monument to Tomás Estrada Palma on the street in front of the pool area of the hotel. Estrada Palma was Cuba's first President, installed in an uncontested election in 1902, held during the first U.S. military occupation of Cuba (1898-1902). This is significant because all monuments to republican-era political figures were desecrated by government order in early 1961. Today, only the pedestal still stands, topped by the statue of Tomás Estrada Palma's bronze shoes, which workers were not able to remove from the base of the pedestal. See also Prints 17 and 35.
Dates
Creator
Language of Materials
From the Collection:
The materials are in Spanish and English.
Conditions Governing Access
From the Collection:
The materials are open for research.

Original audiovisual materials, as well as preservation and duplicating masters, may not be played. Researchers must consult use copies, or if none exist must pay for a use copy, which is retained by the repository. Researchers wishing to obtain an additional copy for their personal use should consult Copying Services information on the Manuscripts and Archives web site.
Part of the Manuscripts and Archives Repository
Contact:
Yale University Library
P.O. Box 208240

New Haven
CT
06520-8240
US
(203) 432-1735
(203) 432-7441 (Fax)
beinecke.library@yale.edu
Location
Sterling Memorial Library
Room 147
120 High Street
New Haven, CT 06511

Opening Hours