Book X Print 47: Rebels at sugar mill; United States hostages, 1958 June
 Part of Collection — Box: 7, Folder: 759
Call Number:
MS 650, Series I
Click here to access online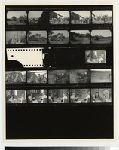 Scope and Contents
Top rows of frames depict a group of rebels in a requisitioned truck as they inspect the damage they have apparently done to building belonging to a sugar mill. Row two shows the rebels driving past a railroad car loaded with sugar cane that has been abandoned on the tracks, as well as a picture of Efigenio Ameijeiras sitting at table. The next row, frame 1, and the final, fourth row of frames show Ameijeiras and several other rebels, sitting at a table inside a wooden building; two of the men, sitting at the head of the table and facing the camera are probably part of the group of United States hostages taken earlier that summer. Row three shows Efigenio Ameijeiras and other rebels as seen through the front window of a jeep parked alongside a road. Frames 19 and 20 show a local black peasant balancing a bunch of bananas on his head and holding a plate of ground corn. The last frame in the third row shows the exterior of the wooden building where the hostages are being kept. At the front door stands an armed guard who is flanked by two hand-painted signs, apparently meant to throw off any suspicion of its use as a rebel hideout or a relic of the building's former use by Batista forces: (on the left) "Viva Batista y su ejército," (on the right) "La razón La justicia La tiene Batista."
Dates
Creator
Language of Materials
From the Collection:
The materials are in Spanish and English.
Conditions Governing Access
From the Collection:
The materials are open for research.

Original audiovisual materials, as well as preservation and duplicating masters, may not be played. Researchers must consult use copies, or if none exist must pay for a use copy, which is retained by the repository. Researchers wishing to obtain an additional copy for their personal use should consult Copying Services information on the Manuscripts and Archives web site.
Part of the Manuscripts and Archives Repository
Contact:
Yale University Library
P.O. Box 208240

New Haven
CT
06520-8240
US
(203) 432-1735
(203) 432-7441 (Fax)
beinecke.library@yale.edu
Location
Sterling Memorial Library
Room 147
120 High Street
New Haven, CT 06511

Opening Hours