Elevations and plans of present and projected buildings of Yale College by John Trumbull (original and photstat), 1793
 Part of Collection — Folder: 3
Call Number:
RU 1, Series I
Click here to access online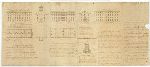 Scope and Contents
Left to right, buildings identified by Trumbull as "Projected Building, Chapel, Present Building, Buildings which may be erected hereafter." Illustrates the beginnings of the Old Brick Row.
Dates
Conditions Governing Access
From the Series:
Series I is available on aperture cards. Patrons must use this format. Special permission from the Head of Manuscripts and Archives is required to use original drawings in Series I.
Language of Materials
From the Collection: English
Part of the Manuscripts and Archives Repository
Contact:
Yale University Library
P.O. Box 208240

New Haven
CT
06520-8240
US
(203) 432-1735
(203) 432-7441 (Fax)
beinecke.library@yale.edu
Location
Sterling Memorial Library
Room 147
120 High Street
New Haven, CT 06511

Opening Hours