Yale Forest School, prepared by Waldo D. Barbour class of 1911. Birch bark covered book (14"X 12") of photos from 1909-12. Photos present detailed documentation of the people and places associated with the Yale Forest School field camps in Milford, PA, Trinity, TX, Mount Carmel, CT. Includes photographs of sawmills, skidder, and other tools and machinery used at that time.
 Part of Collection — Box: 6a
Call Number:
RU 41, Series Accession 1991-A-079
Click here to access online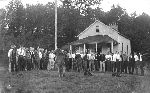 Dates
Creator
Conditions Governing Access
From the Series:
The materials are open for research.
Language of Materials
From the Collection: English
Part of the Manuscripts and Archives Repository
Contact:
Yale University Library
P.O. Box 208240

New Haven
CT
06520-8240
US
(203) 432-1735
(203) 432-7441 (Fax)
beinecke.library@yale.edu
Location
Sterling Memorial Library
Room 147
120 High Street
New Haven, CT 06511

Opening Hours